Co-Ownership Discounts: A New Direction?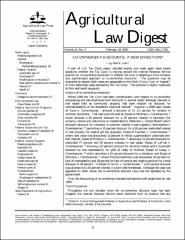 Department
Iowa State University Digital Repository
Abstract
A pair of U.S. Tax Court cases, decided exactly one week apart, have raised questions whether the Tax Court is moving toward the Internal Revenue Service position on co-ownership discounts or whether the court is adopting a more complex and sophisticated approach to co-ownership discounts. The questions may be answered on appeal (both cases are appealable to the Ninth Circuit Court of Appeal) or from additional cases decided by the Tax Court. The outcome is highly important to farm and ranch taxpayers.
Subject Categories
Collections