Content Analysis of M-Commerce: A Comparison of Apparel and Non-apparel Sites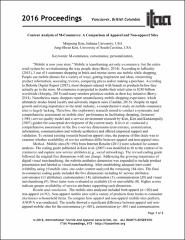 Series
International Textile and Apparel Association (ITAA) Annual Conference Proceedings
The first national meeting of textile and clothing professors took place in Madison, Wisconsin in June 1959. With a mission to advance excellence in education, scholarship and innovation, and their global applications, the International Textile and Apparel Association (ITAA) is a professional and educational association of scholars, educators, and students in the textile, apparel, and merchandising disciplines in higher education.
This site provides free, public access to the ITAA annual conference proceedings beginning in 2015. Previous proceedings can be found by following the "Additional ITAA Proceedings" link on the left sidebar of this page.
Abstract
To conduct a systematic and comprehensive assessment on mobile sites' performance in facilitating mobile shopping, this study examined whether availability of service attributes differ between apparel and non-apparel mobile sites. The comprehensive coding guide developed and validated in the context of e-commerce research guided the conceptual development of this study. Mobile sites (N=194) from Internet Retailer (2011) were selected for content analysis. The updated m-commerce coding guide included the five dimensions such as convenience, customization, information, communication and visual merchandising. The findings show that apparel mobile sites outperform non-apparel sites for the convenience, customization and communication dimensions. No difference was found for the information and visual merchandising dimensions. The findings of this exploratory study offer a useful snap shot of the current performance of m-commerce sites for both scholars and practitioners.
Subject Categories
Collections