Novel Strains Isolated from Soil for Cellobiosan Utilization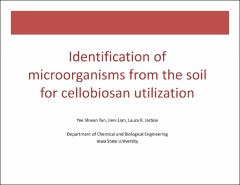 Series
Symposium on Undergraduate Research and Creative Expression
The Symposium provides undergraduates from all academic disciplines with an opportunity to share their research with the university community and other guests through conference-style oral presentations. The Symposium represents part of a larger effort of Iowa State University to enhance, support, and celebrate undergraduate research activity.
Though coordinated by the University Honors Program, all undergraduate students are eligible and encouraged to participate in the Symposium. Undergraduates conducting research but not yet ready to present their work are encouraged to attend the Symposium to learn about the presentation process and students not currently involved in research are encouraged to attend the Symposium to learn about the broad range of undergraduate research activities that are taking place at ISU.
The first Symposium was held in April 2007. The 39 students who presented research and their mentors collectively represented all of ISU's Colleges: Agriculture and Life Sciences, Business, Design, Engineering, Human Sciences, Liberal Arts and Sciences, Veterinary Medicine, and the Graduate College. The event has grown to regularly include more than 100 students presenting on topics that span the broad range of disciplines studied at ISU.
Department
Chemical and Biological Engineering
Abstract
The microbial utilization of levoglucosan has been explored in the recent decades (Zhuang and Zhang, 2002; Zhuang et al., 2001; Jarboe et al., 2011), but the literature concerning catabolism of cellobiosan, another component produced from thermochemical processing, is very scarce. This work focuses on the potential of cellobiosan to be metabolized by microbes isolated from soil as a sole carbon source. This will contribute to the study on the utilization of cellobiosan as an energy source during fermentation to produce useful products in the green chemicals industries. The work presented has demonstrated that cellobiosan is able to be utilized as a sole carbon source and also during co-fermentation with the other pyrolysis product, levoglucosan. The ability of novel strains to maximize the utilization of cellobiosan is supported by the usage of mineral medium to ensure that cellobiosan is the only carbon and energy source during fermentation.
Subject Categories
Collections