Transmission of Polistes Vibrational Signals Across The Nest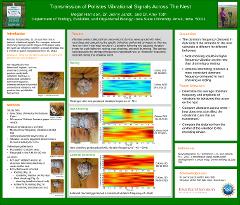 Series
Symposium on Undergraduate Research and Creative Expression
The Symposium provides undergraduates from all academic disciplines with an opportunity to share their research with the university community and other guests through conference-style oral presentations. The Symposium represents part of a larger effort of Iowa State University to enhance, support, and celebrate undergraduate research activity.
Though coordinated by the University Honors Program, all undergraduate students are eligible and encouraged to participate in the Symposium. Undergraduates conducting research but not yet ready to present their work are encouraged to attend the Symposium to learn about the presentation process and students not currently involved in research are encouraged to attend the Symposium to learn about the broad range of undergraduate research activities that are taking place at ISU.
The first Symposium was held in April 2007. The 39 students who presented research and their mentors collectively represented all of ISU's Colleges: Agriculture and Life Sciences, Business, Design, Engineering, Human Sciences, Liberal Arts and Sciences, Veterinary Medicine, and the Graduate College. The event has grown to regularly include more than 100 students presenting on topics that span the broad range of disciplines studied at ISU.
Department
Ecology, Evolution and Organismal Biology
Abstract
Polistes wasp nests, unlike those constructed by other social insects, are made of pulp, bell shaped, hung by a petiole, and exposed. We propose this simple design may have been selected to maximize transmission of vibrational signals throughout the nest. For example, antennal drumming by Polistes queens may be one way that wasps use the nest substrate to communicate. If selection has acted in a way that wasps construct nests so to maximize signal transmission, then the antennal drumming signal should remain intact as the distance from the signaler increases. Alternatively, if the nest is not constructed so to maximize vibrational communication, then the antennal drumming signal should dampen as the distance from signaler increases. To test these hypotheses, we attached piezoelectric devices to Polistes fuscatus nests. These devices record the frequency and amplitude of vibrations on the nest. We filmed the activity on three nests for 30 minutes on multiple days, and noted the distance the drumming wasp was from the piezo device while it recorded the vibration. We compare the effect that distance has on signal strength and variability in the antennal drumming signal, as well as in other active and inactive behaviors.
Subject Categories
Collections