Development of a Breadboard Instrument for the Ultrasonic Measurement of Stress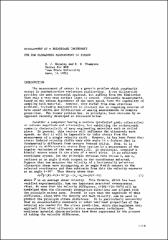 Series
Review of Progress in Quantitative Nondestructive Evaluation
Begun in 1973, the Review of Progress in Quantitative Nondestructive Evaluation (QNDE) is the premier international NDE meeting designed to provide an interface between research and early engineering through the presentation of current ideas and results focused on facilitating a rapid transfer to engineering development.
This site provides free, public access to papers presented at the annual QNDE conference between 1983 and 1999, and abstracts for papers presented at the conference since 2001.
Abstract
The measurement of stress is a generic problem which constantly occurs in nondestructive evaluation applications. X-ray diffraction provides the most successful approach, but suffers from the limitation that only a very near surface layer is sensed. Ultrasonic measurements, based on the stress dependence of the wave speed, have the capability of sampling bulk material. However, they suffer from some practical problems, including degradations in accuracy due to competing sources of wave speed shifts and difficulties of making measurements in complex geometries. The former problem has, in principle, been overcome by an approach recently developed as discussed below.
Subject Categories
Copyright
Sun Jan 01 00:00:00 UTC 1989
Collections