Phase Steering and Focusing Behavior of Ultrasound in Cementitious Materials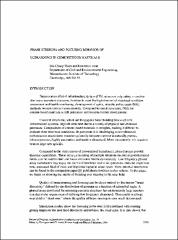 Series
Review of Progress in Quantitative Nondestructive Evaluation
Begun in 1973, the Review of Progress in Quantitative Nondestructive Evaluation (QNDE) is the premier international NDE meeting designed to provide an interface between research and early engineering through the presentation of current ideas and results focused on facilitating a rapid transfer to engineering development.
This site provides free, public access to papers presented at the annual QNDE conference between 1983 and 1999, and abstracts for papers presented at the conference since 2001.
Abstract
Deterioration of civil infrastructure system (CIS) raises not only safety issues but also socio-economic concerns. In order to meet the high demand of structural condition assessment and health monitoring, development of quick, reliable and accurate NDE methods became critical issues recently. Compared to metal structures, NDE for cement-based materials is still premature and requires further development.
Copyright
Fri Jan 01 00:00:00 UTC 1999
Collections