Compressive Stress Effects on the Ultrasonic Detection of Cracks in Welds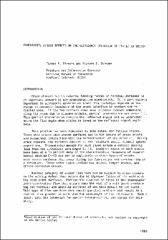 Series
Review of Progress in Quantitative Nondestructive Evaluation
Begun in 1973, the Review of Progress in Quantitative Nondestructive Evaluation (QNDE) is the premier international NDE meeting designed to provide an interface between research and early engineering through the presentation of current ideas and results focused on facilitating a rapid transfer to engineering development.
This site provides free, public access to papers presented at the annual QNDE conference between 1983 and 1999, and abstracts for papers presented at the conference since 2001.
Abstract
Crack closure due to external bending forces or residual stresses is an important concern in any nondestructive examination. It is particularly important in ultrasonic examination since this technique depends on the change in acoustic impedance at the crack interface to produce the reflected wave. If the two surfaces come into intimate contact somewhere along the crack due to closure effects, partial transmission can occur [1]. This partial transmission reduces the reflected signal and so underestimates the flaw depth when sizing is based on the reflected signal amplitude.
Subject Categories
Copyright
Sat Aug 01 00:00:00 UTC 1987
Collections