The Statistical Distribution of Grain Noise in Ultrasonic Images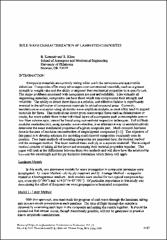 Series
Review of Progress in Quantitative Nondestructive Evaluation
Begun in 1973, the Review of Progress in Quantitative Nondestructive Evaluation (QNDE) is the premier international NDE meeting designed to provide an interface between research and early engineering through the presentation of current ideas and results focused on facilitating a rapid transfer to engineering development.
This site provides free, public access to papers presented at the annual QNDE conference between 1983 and 1999, and abstracts for papers presented at the conference since 2001.
Abstract
Ultrasonic imaging technologies are rapidly being transitioned to the production environment. An example of this is occurring in the aerospace industry, where digital data acquisition and imaging are being used to improve the ultrasonic inspection of large grained alloys. [1] The availability of digital data and ever increasing computing power opens the door for more sophisticated data analysis techniques than have been used in the past. Such potential techniques include the Wiener filter to improve resolution, dynamic thresholding to improve detection, signal-to-noise (SNR) based material acceptance criteria, and the estimation of the probability of detection (POD) of a given inspection. [2–5] An element critical to the success of all these techniques is an accurate estimate the distribution of the ultrasonic reflections from grain boundaries which are commonly referred to as grain noise. This paper presents a technique to estimate the parameters of closed-form statistical distributions from grain noise data and analyzes the quality of the fit of several distributions to the grain noise found in ultrasonic images of titanium alloys.
Subject Categories
Copyright
Mon Jan 01 00:00:00 UTC 1996
Collections