An Image Scanning Heterodyne Microinterferometer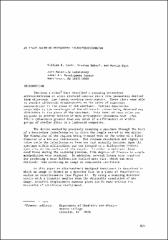 Series
Review of Progress in Quantitative Nondestructive Evaluation
Begun in 1973, the Review of Progress in Quantitative Nondestructive Evaluation (QNDE) is the premier international NDE meeting designed to provide an interface between research and early engineering through the presentation of current ideas and results focused on facilitating a rapid transfer to engineering development.
This site provides free, public access to papers presented at the annual QNDE conference between 1983 and 1999, and abstracts for papers presented at the conference since 2001.
Abstract
Previous studies1 have described a scanning heterodyne microinterferometer which produced contour plots from parameters derived from ultrasonic time domain waveform measurements. These plots were able to resolve ultrasonic displacements on the order of angstroms perpendicular to the plane of the specimen. Spatial resolution comparable to the wavelength of the ultrasonic pulses being detected was obtainable in the plane of the specimen. This level of resolution was adequate to provide details of wave propagation phenomena near large fibers (diameters greater than one tenth of a millimeter) or within groups of similar plies in a laminated composite.
Subject Categories
Copyright
Sun Jan 01 00:00:00 UTC 1989
Collections