Iowa Farmers' Practices and Opinions About Lisa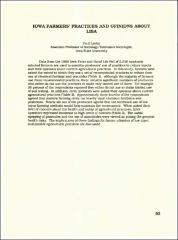 Altmetrics
Series
Proceedings of the Integrated Crop Management Conference
The Iowa State University Integrated Crop Management Conference is Iowa's premier crop production education event. No other program in Iowa brings together the diverse range of topics, slate of expert presenters and results of the latest University research.
The ICM Conference offers workshops focusing on the latest in crop production technology. Experts from Iowa and surrounding states will provide research updates and results in soil fertility, soil and water management, crop production and pest management.
Abstract
Data from the 1989 Iowa Farm and Rural Life Poll of 2,016 randomly selected farmers are used to examine producers' use of practices to reduce inputs and their opinions about current agricultural practices. In this study, farmers were asked the extent to which they use a set of recommended practices to reduce their use of chemical fertilizer and pesticides (Table 1). Although the majority of farmers use these recommended practices, there remains significant numbers of producers who either do not use the practices or make only limited use of them. For example, 26 percent of the respondents reported they either do not use or make limited use of soil testing. In addition, farm operators were asked their opinions about current agricultural practices (Table 2). Approximately three-fourths of the respondents agreed that modern farming relies too heavily upon chemical fertilizers and pesticides. Nearly six out of ten producers agreed that the increased use of low input farming methods would help maintain the environment. When asked their level of concern about the health and safety of agricultural practices, farm operators expressed moderate to high levels of concern (Table 3). The aerial spraying of pesticides and the use of insecticides were viewed as posing the greatest health risks. The implications of these findings for farmer adoption of low input sustainable agricultural practices are discussed.
Subject Categories
Collections