Brand Personality, Consumer Satisfaction and Loyalty: A Perspective from Denim Jeans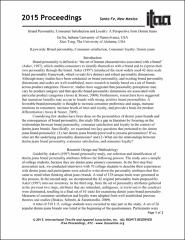 Series
International Textile and Apparel Association (ITAA) Annual Conference Proceedings
The first national meeting of textile and clothing professors took place in Madison, Wisconsin in June 1959. With a mission to advance excellence in education, scholarship and innovation, and their global applications, the International Textile and Apparel Association (ITAA) is a professional and educational association of scholars, educators, and students in the textile, apparel, and merchandising disciplines in higher education.
This site provides free, public access to the ITAA annual conference proceedings beginning in 2015. Previous proceedings can be found by following the "Additional ITAA Proceedings" link on the left sidebar of this page.
Abstract
Considering few studies have been done on the personalities of denim jeans brands and the consequences of brand personality, this study fills a gap in literature by focusing on the relationships between brand personality, consumer satisfaction and loyalty in the context of denim jeans brands. Specifically, we examined two key questions that pertained to the denim jeans brand personality: (1) Are denim jeans brands perceived to possess personalities? If so, what are the underlying personality dimensions? and (2) What are the relationships between denim jeans brand personality, consumer satisfaction, and consumer loyalty?
Collections