Maximizing Conservation and Return of Investment on Farms in the Turkey River Watershed.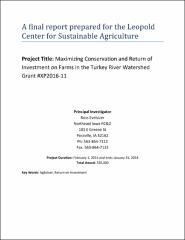 Department
Leopold Center for Sustainable Agriculture
Abstract
Northeast Iowa Resource Conservation and Development (RC&D) and the Iowa Soybean Association (ISA) collaborated to engage producers in Northeast Iowa to maximize conservation and return of investment (ROI) on their farms. RC&D and ISA worked one-on-one with producers in the Turkey River Watershed to use innovative technology to analyze the acres in production on each farm. The analysis revealed productive versus unproductive acres. Using a program called Profit Zone Manager from AgSolver Inc (now EFC Systems), this project allowed producers to understand different characteristics of and components within each field, reconnecting them to the nuances of the soil and other subfield characteristics. In doing so, it helped them maximize their ROI while simultaneously increasing the conservation value of their farm.
Collections