Effects of crack morphology and closure on ultrasonic response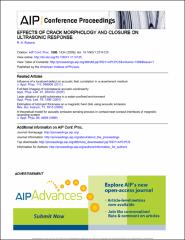 Department
Center for Nondestructive Evaluation
Abstract
Progress is reported on the development of tools for the study of the influence of crack morphology and closure on ultrasonic inspection response. An in‐situ phased array sector scan is described for the monitoring of crack responses under load, and results are presented showing the anticipated dependence of signal amplitude on crack closure. Acoustic microscopy mapping of actual crack morphology is outlined. A measurement model is presented for prediction of responses using the measured crack morphology as input. Results are shown demonstrating the reduction in inspection signal amplitude arising from the deviation of measured crack morphology from the ideal planar geometry.
Comments
Copyright 2009 American Institute of Physics. This article may be downloaded for personal use only. Any other use requires prior permission of the author and the American Institute of Physics.
This article appeared in AIP Conference Proceedings, 1096 (2009): 1434–1441 and may be found at: http://dx.doi.org/10.1063/1.3114125.
Subject Categories
Copyright
Thu Jan 01 00:00:00 UTC 2009
Collections