Interactive Diffraction of a Plane Longitudinal Wave by a Pair of Coplanar Central Cracks in an Elastic Solid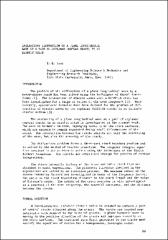 Series
Review of Progress in Quantitative Nondestructive Evaluation
Begun in 1973, the Review of Progress in Quantitative Nondestructive Evaluation (QNDE) is the premier international NDE meeting designed to provide an interface between research and early engineering through the presentation of current ideas and results focused on facilitating a rapid transfer to engineering development.
This site provides free, public access to papers presented at the annual QNDE conference between 1983 and 1999, and abstracts for papers presented at the conference since 2001.
Abstract
The problem of the diffraction of a plane longitudinal wave by a penny-shaped crack has been solved using the techniques of Hankel transforms [1]. The interaction of elastic waves with a Griffith crack has been investigated for a range of values of the wave frequency [2]. More recently, approximate formulas have been derived for the problem of diffraction of elastic waves by two coplanar Griffith cracks in an infinite elastic medium [3].
Subject Categories
Copyright
Thu Jan 01 00:00:00 UTC 1987
Collections