3D Numerical Simulation of Eddy Current Testing of a Block with a Crack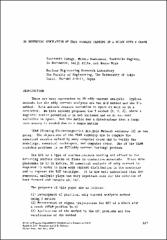 Series
Review of Progress in Quantitative Nondestructive Evaluation
Begun in 1973, the Review of Progress in Quantitative Nondestructive Evaluation (QNDE) is the premier international NDE meeting designed to provide an interface between research and early engineering through the presentation of current ideas and results focused on facilitating a rapid transfer to engineering development.
This site provides free, public access to papers presented at the annual QNDE conference between 1983 and 1999, and abstracts for papers presented at the conference since 2001.
Abstract
There are many approaches to 3D eddy current analysis. Typical methods for the eddy current analysis are the A-ø method and the T-ω method. Both methods require variables in space as well as in a conductor. We have already proposed the T method [1, 2, 3], where a magnetic scalar potential ω is not included and we do not need variables in space. But the method has a disadvantage that a large core memory is needed due to a dense matrix.
Subject Categories
Copyright
Mon Jan 01 00:00:00 UTC 1990
Collections