Fundamentals of Thermal Wave Physics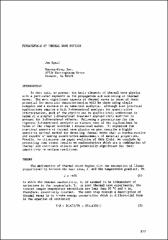 Series
Review of Progress in Quantitative Nondestructive Evaluation
Begun in 1973, the Review of Progress in Quantitative Nondestructive Evaluation (QNDE) is the premier international NDE meeting designed to provide an interface between research and early engineering through the presentation of current ideas and results focused on facilitating a rapid transfer to engineering development.
This site provides free, public access to papers presented at the annual QNDE conference between 1983 and 1999, and abstracts for papers presented at the conference since 2001.
Abstract
In this talk, we present the basic elements of thermal wave physics with a particular emphasis on the propagation and scattering of thermal waves. The most significant aspects of thermal waves in terms of their potential for materials characterization will be shown using simple examples and a minimum of mathematical analysis. Although most practical applications require a full 3-dimensional analysis for quantitative interpretation, much of the physics can be qualitatively understood in terms of a simpler 1-dimensional treatment appropriately modified to account for 3-dimensional effects. Following a prescription for the rigorous 3-dimensional analysis we discuss some of the implications in terms of the simpler modified 1-dimensional model. To emphasize the practical aspects of thermal wave physics we next describe a highly sensitive optical method for detecting thermal waves that is nondestructive and capable of making quantitative measurements of material properties. Finally, to illustrate the rapid evolution of this field, we conclude by presenting some recent results on semiconductors which are a combination of thermal and electronic effects and potentially significant for their sensitivity to surface conditions.
Subject Categories
Copyright
Thu Jan 01 00:00:00 UTC 1987
Collections