Acousto-Ultrasonic Source Influence in an Anisotropic Layer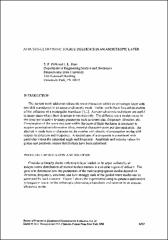 Series
Review of Progress in Quantitative Nondestructive Evaluation
Begun in 1973, the Review of Progress in Quantitative Nondestructive Evaluation (QNDE) is the premier international NDE meeting designed to provide an interface between research and early engineering through the presentation of current ideas and results focused on facilitating a rapid transfer to engineering development.
This site provides free, public access to papers presented at the annual QNDE conference between 1983 and 1999, and abstracts for papers presented at the conference since 2001.
Abstract
The current work addresses ultrasonic wave interaction within an orthotropic layer with two disk transducers in an acousto-ultrasonic mode. Earlier works have focused on studies of the influence of a rectangular transducer [1,2]. Acousto-ultrasonic techniques are useful in many cases where there is access to one side only. The different wave modes set-up in the layer are sensitive to many parameters such as source size, frequency, direction, etc. Computation of the wave structure within this layer of finite thickness is necessary to acquire quantitative information about material characterization and discontinuities. An attempt is made here to characterize the number and velocity of propagation modes with respect to direction and frequency. A special case of a composite is considered with particular values for azimuthal angle and frequency. Amplitude and velocity values for piston and parabolic source distributions have been calculated.
Copyright
Sun Jan 01 00:00:00 UTC 1995
Collections