The alfalfa leaf-spot disease.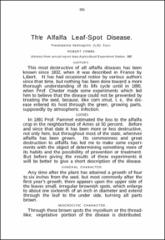 Department
Extension and Experiment Station Publications
Abstract
This most destructive of all alfalfa diseases has been known since 1832, when it was described in France by Libert. It has had occasional notice by various authors since that time, but nothing has been done toward a more thorough understanding of its life cycle until in 1890, when Prof. Chester made some experiments which led him to believe that the disease could not be prevented by treating the seed, because, like corn smut, i. e., the disease entered its host through the green, growing parts, supposedly by atmospheric infection.
Subject Categories
Collections