Hijab and Muslim religious identity expression among Egyptian women in the Pacific Northwest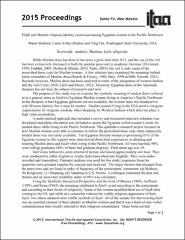 Series
International Textile and Apparel Association (ITAA) Annual Conference Proceedings
The first national meeting of textile and clothing professors took place in Madison, Wisconsin in June 1959. With a mission to advance excellence in education, scholarship and innovation, and their global applications, the International Textile and Apparel Association (ITAA) is a professional and educational association of scholars, educators, and students in the textile, apparel, and merchandising disciplines in higher education.
This site provides free, public access to the ITAA annual conference proceedings beginning in 2015. Previous proceedings can be found by following the "Additional ITAA Proceedings" link on the left sidebar of this page.
Abstract
The purpose of this study was to examine the symbolic meaning of modest dress (referred to in a general sense as hijab) to Egyptian Muslim women living in America's Pacific Northwest. In the diaspora, where Egyptian garments are not available, the women must mix headscarves with Western fashion, but it must be modest. Muslim women living in the USA need to integrate requirements for religious modesty when shopping for Western fashion which does not place a high value on modesty.
Collections