An Improved Defect Classification Algorithm Based on Fuzzy Set Theory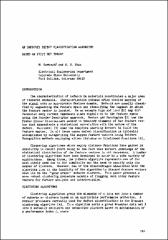 Series
Review of Progress in Quantitative Nondestructive Evaluation
Begun in 1973, the Review of Progress in Quantitative Nondestructive Evaluation (QNDE) is the premier international NDE meeting designed to provide an interface between research and early engineering through the presentation of current ideas and results focused on facilitating a rapid transfer to engineering development.
This site provides free, public access to papers presented at the annual QNDE conference between 1983 and 1999, and abstracts for papers presented at the conference since 2001.
Abstract
The characterization of defects in materials constitutes a major area of research emphasis. Characterization schemes often involve mapping of the signal onto an appropriate feature domain. Defects are usually classified by segmenting the feature space and identifying the segment in which the feature vector is located. As an example Udpa and Lord [1] map differential eddy current impedance plane signals on to the feature space using the Fourier Descriptor approach. Doctor and Harrington [2] use the Fisher Linear Discriminant method to identify elements of the feature vector that demonstrate a statistical correlation with the nature of the defect. Mucciardi [3] uses the Adaptive Learning Network to build the feature vector. In all these cases defect classification is typically accomplished by categorizing the mapped feature vectors using Pattern Recognition methods employing either distance or likelihood functions [4].
Subject Categories
Copyright
Thu Jan 01 00:00:00 UTC 1987
Collections