Computer Simulation of Ultrasonic Scattering and Texture in B-Mode Images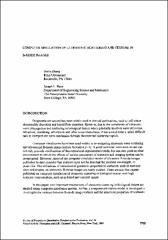 Series
Review of Progress in Quantitative Nondestructive Evaluation
Begun in 1973, the Review of Progress in Quantitative Nondestructive Evaluation (QNDE) is the premier international NDE meeting designed to provide an interface between research and early engineering through the presentation of current ideas and results focused on facilitating a rapid transfer to engineering development.
This site provides free, public access to papers presented at the annual QNDE conference between 1983 and 1999, and abstracts for papers presented at the conference since 2001.
Abstract
Diagnostic ultrasound has been widely used in clinical applications, such as soft tissue abnormality detection and blood flow detection. However, due to the complexity of ultrasonic wave propagation and scattering in biological tissues which generally involves wave reflection, refraction, scattering, absorption and other wave phenomena, it has always been a rather difficult task to interpret the wave mechanics through the received scattering signals.
Copyright
Sun Jan 01 00:00:00 UTC 1995
Collections