Fashion Students' Willingness to Become Entrepreneurs: Comparison between Students in the Appalachian and the Southern Regions of U.S.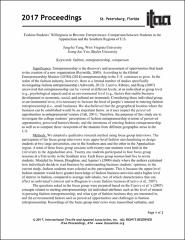 Series
International Textile and Apparel Association (ITAA) Annual Conference Proceedings
The first national meeting of textile and clothing professors took place in Madison, Wisconsin in June 1959. With a mission to advance excellence in education, scholarship and innovation, and their global applications, the International Textile and Apparel Association (ITAA) is a professional and educational association of scholars, educators, and students in the textile, apparel, and merchandising disciplines in higher education.
This site provides free, public access to the ITAA annual conference proceedings beginning in 2015. Previous proceedings can be found by following the "Additional ITAA Proceedings" link on the left sidebar of this page.
Abstract
Entrepreneurship is the discovery and assessment of opportunities that leads to the creation of a new organization (Reynolds, 2005). Entrepreneurship in the U.S. continues to grow, but there is a limited number of studies specifically investigating fashion entrepreneurship. The purposes of this study are to investigate the college students' perceptions of fashion entrepreneurship in terms of perceived opportunities, perceived barriers/threats, and the intentions of entering fashion entrepreneurship, as well as to compare these viewpoints of the students from different geographic areas in the U.S. Comparisons were made between focus group interviews conducted at two different universities, one in the Southern region and the other one in the Appalachian region.
Subject Categories
Collections