A New Conservation Law Description of an Electromagnetic Acoustic Transducer in the Time Domain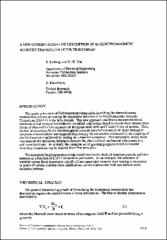 Series
Review of Progress in Quantitative Nondestructive Evaluation
Begun in 1973, the Review of Progress in Quantitative Nondestructive Evaluation (QNDE) is the premier international NDE meeting designed to provide an interface between research and early engineering through the presentation of current ideas and results focused on facilitating a rapid transfer to engineering development.
This site provides free, public access to papers presented at the annual QNDE conference between 1983 and 1999, and abstracts for papers presented at the conference since 2001.
Abstract
This paper presents a unified theoretical formulation describing the electrodynamic transduction process governing the transmitter behavior of an Electromagnetic Acoustic Transducer (EMAT) in the time domain. This new approach establishes separate electrical, mechanical and material formulations, so-called subsystems, based on momentum conservation forms of Maxwell's field equations in the quasi-static limit and Cauchy's law of motion. Thus, instead of acounting for the electromagnetic acoustic material interaction by direct linkage of mechanical stress tensor and magnetic flux density via constitutive relations [1], the coupling of the field tensors is achieved by relying on a material subsystem. This subsystem, which takes into account the specimen, interfaces between the electrical and mechanical subsystems in a self-consistent way. As a result, the complete set of governing equations and associated boundary conditions can be derived from first principles.
Subject Categories
Copyright
Wed Jan 01 00:00:00 UTC 1992
Collections