Optimization of Neural Network Parameters for Defect Characterization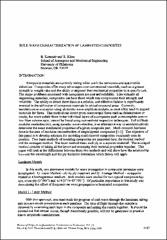 Series
Review of Progress in Quantitative Nondestructive Evaluation
Begun in 1973, the Review of Progress in Quantitative Nondestructive Evaluation (QNDE) is the premier international NDE meeting designed to provide an interface between research and early engineering through the presentation of current ideas and results focused on facilitating a rapid transfer to engineering development.
This site provides free, public access to papers presented at the annual QNDE conference between 1983 and 1999, and abstracts for papers presented at the conference since 2001.
Abstract
Natural gas, which is one of the nation's cheapest forms of energy, is transported to consumer sites via a vast transmission pipeline network .Safety considerations and a desire to assure uninterrupted energy supply require that the pipelines be inspected periodically. The effective detection of defects in the pipeline is vital to assure the integrity of the transmission systems. A variety of nondestructive evaluation techniques (NDE), such as ultrasonic, eddy current, and magnetic flux leakage (MFL) methods have been employed to detect defects in gas pipelines [1]. Among these methods, the MFL method represents the commonly used technique.
Copyright
Mon Jan 01 00:00:00 UTC 1996
Collections