Old Value: Millennials' Knowledge of Mending Skills and its Effect on their Clothing Consumption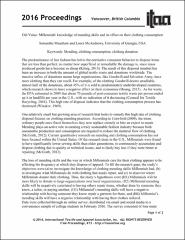 Series
International Textile and Apparel Association (ITAA) Annual Conference Proceedings
The first national meeting of textile and clothing professors took place in Madison, Wisconsin in June 1959. With a mission to advance excellence in education, scholarship and innovation, and their global applications, the International Textile and Apparel Association (ITAA) is a professional and educational association of scholars, educators, and students in the textile, apparel, and merchandising disciplines in higher education.
This site provides free, public access to the ITAA annual conference proceedings beginning in 2015. Previous proceedings can be found by following the "Additional ITAA Proceedings" link on the left sidebar of this page.
Abstract
The predominance of fast fashion has led to the normative consumer behavior of disposal when clothing is less than perfect, no matter how superficial the damage. This disposal mindset has led to an increase in both clothing donations and textile waste. One factor that has been researched as a remedy of this shortened clothing consumption process is the loss of mending skills. The purpose of this study was to examine what mending skills Millennials in particular have, what they do with their clothing that needs to be repaired, and where they donate their clothing. Through the use of survey research of 101 Millennials, the results indicate that this generational cohort donates to large organizations and gives their clothes to others for repair when their mending skills are lower, whether someone they know or someone they pay. The findings indicate opportunities for educators and consumers.
Subject Categories
Collections