Measuring Differences Among Probability of Detection Curves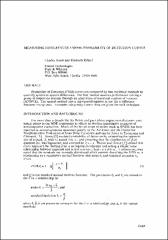 Series
Review of Progress in Quantitative Nondestructive Evaluation
Begun in 1973, the Review of Progress in Quantitative Nondestructive Evaluation (QNDE) is the premier international NDE meeting designed to provide an interface between research and early engineering through the presentation of current ideas and results focused on facilitating a rapid transfer to engineering development.
This site provides free, public access to papers presented at the annual QNDE conference between 1983 and 1999, and abstracts for papers presented at the conference since 2001.
Abstract
Probability of Detection (POD) curves are compared by two statistical methods to quantify system-to-system differences. The first method assesses performance among a group of inspection systems through an adaptation of statistical analysis of variance (ANOVA). The second method uses a chi-squared statistic to test for a difference between two systems. Examples using eddy current data are given for each technique.
Copyright
Sun Jan 01 00:00:00 UTC 1989
Collections