Accurate Simulation of EMAT Probes for Ultrasonic NDT Based on Experimental Measurements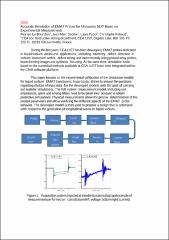 Series
Review of Progress in Quantitative Nondestructive Evaluation
Begun in 1973, the Review of Progress in Quantitative Nondestructive Evaluation (QNDE) is the premier international NDE meeting designed to provide an interface between research and early engineering through the presentation of current ideas and results focused on facilitating a rapid transfer to engineering development.
This site provides free, public access to papers presented at the annual QNDE conference between 1983 and 1999, and abstracts for papers presented at the conference since 2001.
Abstract
During the last years, CEALIST has been developing EMATprobes dedicated to liquid sodium ultrasound applications, including telemetry, defect detection in sodium immersed welds, defect sizing, andmore recently using phased array probes, beam forming images and synthetic focusing. At the same time, simulation tools based on the numerical methods available at CEA LIST have been integrated within the CIVA software platform.
This paper focuses on the experimental calibration of the simulation models for liquid sodium EMAT transducers. In particular, it tries to answer the questions regarding choices of input data for the developed models with the goal of carrying out realistic simulations. The full system measurement model, including coil impedances, gains and analog filters need to be taken into account to obtain predictive simulations. Physical measurements allow the precise determination of the needed parameters and allow verifying the different aspects of the EMAT probe behavior. The developed model is then used to propose a design that is optimized with respect to the generation of longitudinal waves in liquid sodium.
Collections