Manufacture of Reference Defects for NDE through Hot Isostatic Pressing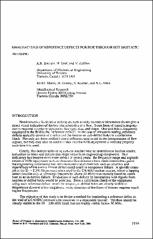 Series
Review of Progress in Quantitative Nondestructive Evaluation
Begun in 1973, the Review of Progress in Quantitative Nondestructive Evaluation (QNDE) is the premier international NDE meeting designed to provide an interface between research and early engineering through the presentation of current ideas and results focused on facilitating a rapid transfer to engineering development.
This site provides free, public access to papers presented at the annual QNDE conference between 1983 and 1999, and abstracts for papers presented at the conference since 2001.
Abstract
Nondestructive Evaluation techniques such as eddy current or ultrasonics do not give a direct visual indication of the key characteristics of a flaw. Some form of signal interpretation is required in order to determine flaw type, size, and shape. One tool that is frequently employed in the field is the "reference defect"; in the case of ultrasonic testing, reference defects typically consist of notches and flat-bottom or side-drilled holes in a calibration block. Not only are these artificial sound reflectors used to aid in the interpretation of flaw signals, but they may also be used to check that the NDE equipment is working properly each time it is used.
Subject Categories
Copyright
Tue Jan 01 00:00:00 UTC 1991
Collections