Emerging Materials Technology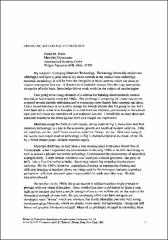 Series
Review of Progress in Quantitative Nondestructive Evaluation
Begun in 1973, the Review of Progress in Quantitative Nondestructive Evaluation (QNDE) is the premier international NDE meeting designed to provide an interface between research and early engineering through the presentation of current ideas and results focused on facilitating a rapid transfer to engineering development.
This site provides free, public access to papers presented at the annual QNDE conference between 1983 and 1999, and abstracts for papers presented at the conference since 2001.
Abstract
My subject is Emerging Materials Technology. Technology inherently implies use. Although I will have a great deal to say about currents in the science base underlying materials technology, it will be from the viewpoint of those currents which can assist or support emergence into use. A discussion of materials science from the very appropriate viewpoint of truly basic, knowledge-driven work would be the subject of another paper.
Copyright
Sun Jan 01 00:00:00 UTC 1995
Collections