Price Fairness and Brand Credibility by Effective Disclosure of Cost Information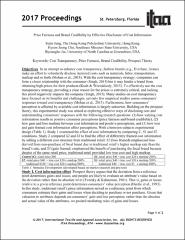 Series
International Textile and Apparel Association (ITAA) Annual Conference Proceedings
The first national meeting of textile and clothing professors took place in Madison, Wisconsin in June 1959. With a mission to advance excellence in education, scholarship and innovation, and their global applications, the International Textile and Apparel Association (ITAA) is a professional and educational association of scholars, educators, and students in the textile, apparel, and merchandising disciplines in higher education.
This site provides free, public access to the ITAA annual conference proceedings beginning in 2015. Previous proceedings can be found by following the "Additional ITAA Proceedings" link on the left sidebar of this page.
Abstract
Building on the prospect theory, this experimental study was aimed at exploring effective ways of disclosing cost and understanding consumers' responses with the following research questions: (1) how varying cost information results in positive consumer perceptions (price fairness and brand credibility), (2) how gain and loss mediate between cost information and positive perceptions, and (3) how loss and gain framed cost information affect perceptions. With a between-subjects experimental design (Table 1), Study 1 examined the effect of cost information by comparing C, S1 and S2 conditions. Study 2 compared S2 and S3 to find the effect of differently framed cost information by adding a different cost structure from traditional retail: S2 (loss framed) emphasized loss derived from non-purchase of focal brand due to traditional retail's higher markup rate than the brand's rate, and S3 (gain framed) emphasized the benefit of purchasing the focal brand because despite of the same retail price, traditional retail provided low true cost and high markup.
Subject Categories
Collections