(Mis)managing data: How to get the results you want!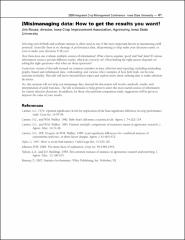 Altmetrics
Series
Proceedings of the Integrated Crop Management Conference
The Iowa State University Integrated Crop Management Conference is Iowa's premier crop production education event. No other program in Iowa brings together the diverse range of topics, slate of expert presenters and results of the latest University research.
The ICM Conference offers workshops focusing on the latest in crop production technology. Experts from Iowa and surrounding states will provide research updates and results in soil fertility, soil and water management, crop production and pest management.
Abstract
Selecting corn hybrids and soybean varieties is often cited as one of the most important factors in maximizing yield potential. Generally there is no shortage of performance data, all promising to help make your decisions easier, or even to make your decisions FOR you!
Subject Categories
Collections