Round 2: What Does Textile and Apparel Interdisciplinary Research and Education Look Like in the 21st Century?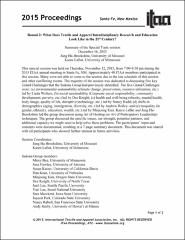 Series
International Textile and Apparel Association (ITAA) Annual Conference Proceedings
The first national meeting of textile and clothing professors took place in Madison, Wisconsin in June 1959. With a mission to advance excellence in education, scholarship and innovation, and their global applications, the International Textile and Apparel Association (ITAA) is a professional and educational association of scholars, educators, and students in the textile, apparel, and merchandising disciplines in higher education.
This site provides free, public access to the ITAA annual conference proceedings beginning in 2015. Previous proceedings can be found by following the "Additional ITAA Proceedings" link on the left sidebar of this page.
Abstract
The majority of the session was dedicated to discussing five key Grand Challenges that the Sedona Group had previously identified. The five Grand Challenges were: (a) environmental sustainability (climate change, preservation, resource utilization, etc.) led by Linda Welters; (b) social sustainability (Corporate social responsibility, community development, poverty, etc.) led by Dee Knight; (c) health and well-being (obesity, mental health, body image, quality of life, disruptive technology, etc.) led by Nancy Rudd; (d) shifts in demographics (aging, immigration, diversity, etc.) led by Andrew Reiley; and (e) inequality (in gender, ethnicity, education, wealth, etc.) led by Minjeong Kim. Karen LaBat and Jung Ha-Brookshire led the group discussion using Art of Hosting (or Art of Participatory Leadership) techniques.
Subject Categories
Collections