Sensitive Laser Interferometer for Acoustic Emission and Ultrasonic NDE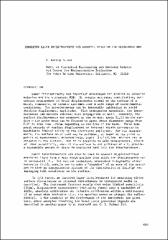 Series
Review of Progress in Quantitative Nondestructive Evaluation
Begun in 1973, the Review of Progress in Quantitative Nondestructive Evaluation (QNDE) is the premier international NDE meeting designed to provide an interface between research and early engineering through the presentation of current ideas and results focused on facilitating a rapid transfer to engineering development.
This site provides free, public access to papers presented at the annual QNDE conference between 1983 and 1999, and abstracts for papers presented at the conference since 2001.
Abstract
Laser interferometry has important advantages for studies of acoustic emission and for ultrasonic NDE. It permits accurate, quantitative, non-contact measurement of local displacements normal to the surface of a metal, composite, or ceramic specimen over a wide range of environmental conditions. The interferometer can be internally calibrated to yield absolute displacement amplitudes. With transparent materials, the interferometer can measure internal wave propagation as well. Commonly, the surface displacements are measured at one or more spots [1,2] on the surface — the probe beam can be focused to spots whose diameters range from 0.02 to less than. 002mm depending on the f/no of the beam. These temporal records of surface displacement or internal strain correspond to bandwidths limited solely by the electronic amplifier. For the measurements, the surface under test may be polished, at least at the point or points of measurement; alternatively, small 2 × 2 × 0. 1mm mirrors can be attached to the surface. But it is possible to make measurements, albeit at lower sensitivity, even if the surface is not polished at all, provided a reasonable amount of light is scattered back into the interferometer.
Copyright
Wed Jan 01 00:00:00 UTC 1986
Collections