Evaluation of ECT Signals Due to SG Tube Crack with Deposit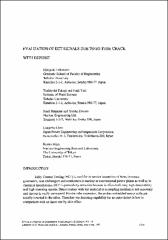 Series
Review of Progress in Quantitative Nondestructive Evaluation
Begun in 1973, the Review of Progress in Quantitative Nondestructive Evaluation (QNDE) is the premier international NDE meeting designed to provide an interface between research and early engineering through the presentation of current ideas and results focused on facilitating a rapid transfer to engineering development.
This site provides free, public access to papers presented at the annual QNDE conference between 1983 and 1999, and abstracts for papers presented at the conference since 2001.
Abstract
Eddy Current Testing (ECT) is used for in-service inspection of tubes in steam generators, heat exchangers and condensers in nuclear or conventional power plants as well as in chemical installations. ECT is particularly attractive because it offers both very high detectability and high scanning speeds. Direct contact with test material or a coupling medium is not necessary and the test is easily automated. For the tube inspection, the probes embedded sensor coils are usually inserted in the tubes. Therefore the detecting capability for an outer defect is low in comparison with an inner one by skin effect.
Subject Categories
Copyright
Wed Jan 01 00:00:00 UTC 1997
Collections