Detection of Sublayer Fatigue Cracks under Airframe Rivets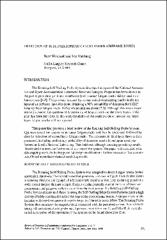 Series
Review of Progress in Quantitative Nondestructive Evaluation
Begun in 1973, the Review of Progress in Quantitative Nondestructive Evaluation (QNDE) is the premier international NDE meeting designed to provide an interface between research and early engineering through the presentation of current ideas and results focused on facilitating a rapid transfer to engineering development.
This site provides free, public access to papers presented at the annual QNDE conference between 1983 and 1999, and abstracts for papers presented at the conference since 2001.
Abstract
The Rotating Self-Nulling Probe System developed as a part of the National Aeronautics and Space Administration's Airframe Structural Integrity Program has been shown in the past to provide a quick and reliable method to detect fatigue cracks hidden under airframe rivets [1–3]. The previous research has concentrated on detecting cracks in the top layer of an airframe lap-splice joint, obtaining a 90% probability of detection for 0.032" long top layer fatigue cracks buried under airframe rivets [2,3]. Although this was a major accomplishment, the question of detectability of fatigue cracks in the lower layers of the joint has been left open. In this work the ability of the system to detect second and third layer fatigue cracks will be explored.
Subject Categories
Copyright
Thu Jan 01 00:00:00 UTC 1998
Collections