South Dakota Amendment E Ruled Unconstitutional - Is There a Future for Legislative Involvement in Shaping the Structure of Agriculture?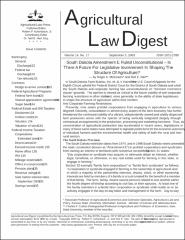 Department
Iowa State University Digital Repository
Abstract
In South Dakota Farm Bureau, Inc. et. al. v. Hazeltine, the U.S. Court of Appeals for the Eighth Circuit upheld the Federal District Court for the District of South Dakota and ruled the South Dakota anti-corporate farming law unconstitutional on "dormant commerce clause" grounds. The opinion is viewed as critical to the future viability of anti-corporate farming restrictions in other states and, more generally, to the ability of state legislatures to shape the structure of agriculture within their borders.
Subject Categories
Collections