Apparel and Textiles Education: A Case for Rural-Urban Interface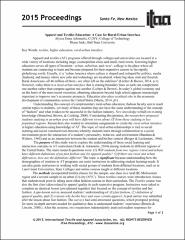 Series
International Textile and Apparel Association (ITAA) Annual Conference Proceedings
The first national meeting of textile and clothing professors took place in Madison, Wisconsin in June 1959. With a mission to advance excellence in education, scholarship and innovation, and their global applications, the International Textile and Apparel Association (ITAA) is a professional and educational association of scholars, educators, and students in the textile, apparel, and merchandising disciplines in higher education.
This site provides free, public access to the ITAA annual conference proceedings beginning in 2015. Previous proceedings can be found by following the "Additional ITAA Proceedings" link on the left sidebar of this page.
Abstract
The purpose of this study was to explore the understanding of these social learning and interaction concepts in AT curriculum (Saiki & Adomaitis, 2014) among students in different regions of the United States. The main research questions were: (1) Will students from two regions (rural and urban) have different definitions of (a) fast fashion and (b) apparel quality? (2)If there are rural and urban differences, how are the definitions different? The topic is significant because understanding how the demographics of students in AT programs can assist instructors in addressing student learning needs. It can also guide instructors in working with varied groups of students from different locations, such as in Land Grant Universities, State Colleges and online courses taught at different locations.
Subject Categories
Collections