Review of Vegetarian Nutrition and Wellness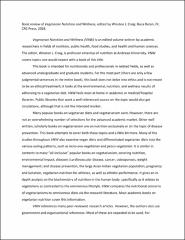 Department
Reference and Instruction
University Library
Abstract
Vegetarian Nutrition and Wellness (VNW) is an edited volume written by academic researchers in fields of nutrition, public health, food studies, and health and human sciences. The editor, Winston J. Craig, is professor emeritus of nutrition at Andrews Univeristy. VNW covers topics one would expect with a book of this title.
This book is intended for nutritionists and professionals in related fields, as well as advanced undergraduate and graduate students. For the most part (there are only a few judgmental sentences in the entire book), this book does not delve into ethics and is not meant to be an ethical treatment; it looks at the environmental, nutrition, and wellness results of adhereing to a vegetarian diet. VNW feels most at home in academic or medical/hospital libraries. Public libraries that want a well referenced source on the topic would also get circulations, although that is not the intended market.
Comments
This is a manuscript of a book review published in the Journal of Agricultural & Food Information (2019).
Subject Categories
Copyright
Tue Jan 01 00:00:00 UTC 2019
Collections