Iowa State University Library Assessment Plan: Fiscal Year 2020 Report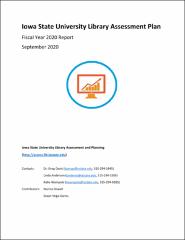 Organizational Units
Library Assessment
The Iowa State University Library Assessment Program (ISULAP) raises the Library's visibility and promotes the value of its collections, programs, services, and expert staff to multiple audiences both on- and off- campus. Using words, numbers, imagery, and context ISULAP assists users of the library in benefiting from the library and the services the library provides.
Department
University Library
Library Assessment
Abstract
The Iowa State University Library Assessment Plan was developed over the course of 2017, and adopted in October of 2017. The plan provides a framework for efforts related to the creation, assembly, and analysis of library data and information. The assessment plan and supporting information related to it can be found on the Iowa State Library Assessment Website.

The assessment plan is aligned with the library's five-year strategic plan (2015-2020) and is intended to support strategic decision-making in the library. The assessment plan's guiding principles are:

• Data-driven: Strive to stay objective, impartial, and grounded in research and analysis.
• Impactful: Focus on the usefulness and impact of library services on users and recommend library process changes based on expertise and findings.
• Productive: Produce and promote innovative, creative, user-friendly, trustworthy, and timely products.
• Efficient: Re-purpose assessment data to support the ongoing review of library operations and tell the Library's story.
• Integrated: Help all ISUL units tell their stories and promote their services. Find and present relevant data in the most valid and effective ways.
• Open: Advance library communication and evidence-based librarianship by sharing and promoting work with the ISUL community.


At the heart of the Iowa State University Library Assessment Plan is a strategy map (Figure 1). A strategy map is a diagram that is used to document the primary strategic objectives being pursued by an organization. The strategy map provides a logic model for the strategy of the organization.

A well-designed strategy map provides a condensed (one side of one piece of paper) view of an organization's strategic objectives. By providing a simple visual representation of the organization's most important strategic objectives, the strategy map is useful as a tool to enable discussions within the library related to those objectives, and consideration of measured progress towards those objectives.
Subject Categories
Copyright
Wed Jan 01 00:00:00 UTC 2020
Collections