A Model for Creating Sustainable Corporate Partnerships in Design and Merchandising Education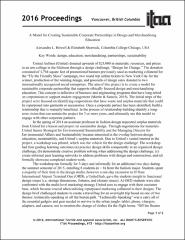 Series
International Textile and Apparel Association (ITAA) Annual Conference Proceedings
The first national meeting of textile and clothing professors took place in Madison, Wisconsin in June 1959. With a mission to advance excellence in education, scholarship and innovation, and their global applications, the International Textile and Apparel Association (ITAA) is a professional and educational association of scholars, educators, and students in the textile, apparel, and merchandising disciplines in higher education.
This site provides free, public access to the ITAA annual conference proceedings beginning in 2015. Previous proceedings can be found by following the "Additional ITAA Proceedings" link on the left sidebar of this page.
Abstract
The aim of this project is to create a model for sustainable corporate partnership that supports ethically focused design and merchandising education. The initial steps of the project were focused on identifying corporations that have waste and surplus materials that could be repurposed into garments or accessories. Once a corporate partner has been identified, build a relationship that is mutually beneficial. In the process of relationship building identify a long-term vision that can sustain the project for 3 or more years, and ultimately use this model to engage with other corporate partners. United Airlines donated upwards of $25,000 in materials, resources, and prizes to an arts college in the Midwest through a design challenge, "Design for Change." Due to United's vested interest in the project, a workshop was piloted, which was the vehicle for the design challenge.
Collections