Iowa's Hit and Run Law Hits Home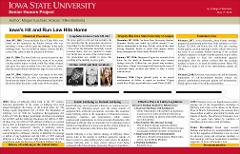 Series
Honors Projects and Posters
The Honors project is potentially the most valuable component of an Honors education. Typically Honors students choose to do their projects in their area of study, but some will pick a topic of interest unrelated to their major.
The Honors Program requires that the project be presented at a poster presentation event. Poster presentations are held each semester. Most students present during their senior year, but may do so earlier if their honors project has been completed.
This site presents project descriptions and selected posters for Honors projects completed since the Fall 2015 semester.
Abstract
In 2015, a hit-and-run accident in the State of Iowa would prove fatal to a student of Iowa State University. In response to pain and suffering, an attempt to eliminate the loopholes in the Iowa Code 321.263 would prove challenging for prosecution attorney, Jessica Reynolds, State Legislature, Ashley Hinson, and supporting family and friends of the Emmalee Jacobs family. This research aims to provide insight to the history of lobbying in the United States examining methods such as insider and outsider lobbying. Additionally, this reach identifies way in which insider and outsider lobbying can be used effectively to produce favorable outcomes for drafted legislation. Lastly, the research will draw attention to a formerly introduced update proposed as New Section 321.266A later to become bill HF 484. The research will draw conclusions on the effective approach in which lobbying was used to propose change in the hit-and-run laws of Iowa while leaving room for heightened knowledge for the next introduction of Emmalee's Law.
Collections