Incorporating multimodal projects for enhancing Millennial learning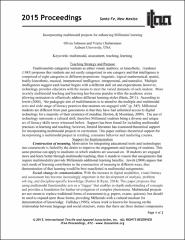 Series
International Textile and Apparel Association (ITAA) Annual Conference Proceedings
The first national meeting of textile and clothing professors took place in Madison, Wisconsin in June 1959. With a mission to advance excellence in education, scholarship and innovation, and their global applications, the International Textile and Apparel Association (ITAA) is a professional and educational association of scholars, educators, and students in the textile, apparel, and merchandising disciplines in higher education.
This site provides free, public access to the ITAA annual conference proceedings beginning in 2015. Previous proceedings can be found by following the "Additional ITAA Proceedings" link on the left sidebar of this page.
Abstract
Millennial students are different from past generations in that they have had unlimited access to digital technology for a majority of their existence (Considine, Horton, & Moorman, 2009). The use of technology represents a cultural shift; therefore Millennial students bring a diverse and unique set of literacy skills never witnessed before. Support has been found for including multimodal practices in learning and teaching; however, limited literature has examined theoretical support for incorporating multimodal projects in curriculum. This paper outlines theoretical support for incorporating a multimodal project in retailing, consumer behavior and marketing courses.
Collections