Academic Library Innovation: A Selective Review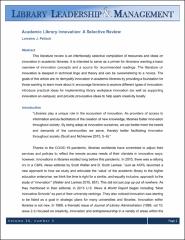 Authors
Publisher
Library Leadership & Management
Abstract
This is an intentionally selective compilation of resources and ideas on innovation in academic libraries. The goals of this article are: to demystify innovation in academic libraries by providing a foundation for those wanting to learn more about it; encourage librarians to explore different types of innovation; introduce practical ideas for implementing library workplace innovation (as well as supporting innovation on campus); and provide provocative ideas to help spark creativity locally.
Comments
This article is published as Pellack, Lorraine J. "Academic Library Innovation: A Selective Review." Library Leadership & Management, v.36, no. 3 (November 2022): 1-19. https://llm-ojs-tamu.tdl.org/llm/article/view/7528.

Copyright (c) 2022 Library Leadership & Management. Creative Commons License: This work is licensed under a Creative Commons Attribution 4.0 International License.


Subject Categories
Collections