A Report to Iowa School Girl: LOOK What a GOOD Diet Can Do!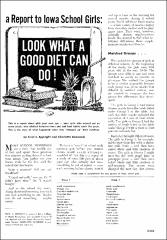 Department
Extension and Experiment Station Publications
Abstract
This is a report about girls your own age - busy girls who missed out on some meals, who nibbled between times and had food habits much like yours. This is the story of what happened when they "stepped up" their nutrition.
Subject Categories
Collections