Are Property Interests Held By Land Contract Purchasers "Like-Kind" To A Fee?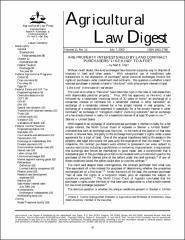 Department
Iowa State University Digital Repository
Abstract
Without much doubt, like-kind exchanges have become a popular way to dispose of interests in land and other assets. With substantial use of installment sale transactions in the disposition of farmland, some like-kind exchanges involve the rights of purchasers under installment land contracts. The question is whether a land contract purchaser's interest in land is "like-kind" with a fee simple interest in land.
Subject Categories
Collections