Love Postoperative ECG Vest (I)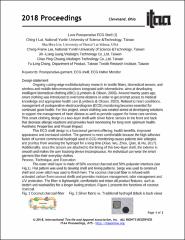 Series
International Textile and Apparel Association (ITAA) Annual Conference Proceedings
The first national meeting of textile and clothing professors took place in Madison, Wisconsin in June 1959. With a mission to advance excellence in education, scholarship and innovation, and their global applications, the International Textile and Apparel Association (ITAA) is a professional and educational association of scholars, educators, and students in the textile, apparel, and merchandising disciplines in higher education.
This site provides free, public access to the ITAA annual conference proceedings beginning in 2015. Previous proceedings can be found by following the "Additional ITAA Proceedings" link on the left sidebar of this page.
Abstract
Ongoing cutting-edge multidisciplinary research in textile fibers, biomedical sensors, and wireless and mobile telecommunications integrated with telemedicine, aims at developing intelligent biomedical clothing (IBC). This project is attempt to find the solution of allergic and uncomfortable issues with normal clothing appearance. The high adhesiveness of current commercial hydrogel causes patients skin allergies and pruritus easily after wearing hydrogel for electrodes for a long time. Smart vest means make user tracking device invisible and wear it like user would with their everyday clothes.
Collections