Infrared Thermography Evaluation of Commercially Available Infrared Heat Lamps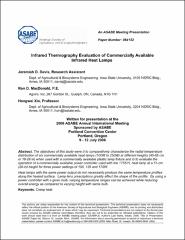 Department
Agricultural and Biosystems Engineering
Abstract
The objectives of this study were i) to comparatively characterize the radial temperature distribution of six commercially available heat lamps (100W to 250W) at different heights (45-66 cm or 18-26 in) when used with a commercially available plastic lamp fixture and ii) to evaluate the operation of a commercially available power controller used with the 175SYL heat lamp at a 51-cm (20-in) height for three power settings of 100, 125 and 175W.

Heat lamps with the same power output do not necessarily produce the same temperature profiles along the heated surface. Lamp lens prescriptions greatly affect the shape of the profile. By using a power controller with a given bulb, varying temperature ranges can be achieved while reducing overall energy as compared to varying height with same bulb.
Comments
This is an ASABE Meeting Presentation, Paper No. 064152.
Subject Categories
Copyright
Sun Jan 01 00:00:00 UTC 2006
Collections