Plus Is Equal?: Analysis of the Negative Social Media Commentary of Lane Bryant's Campaign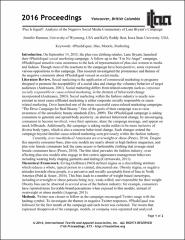 Series
International Textile and Apparel Association (ITAA) Annual Conference Proceedings
The first national meeting of textile and clothing professors took place in Madison, Wisconsin in June 1959. With a mission to advance excellence in education, scholarship and innovation, and their global applications, the International Textile and Apparel Association (ITAA) is a professional and educational association of scholars, educators, and students in the textile, apparel, and merchandising disciplines in higher education.
This site provides free, public access to the ITAA annual conference proceedings beginning in 2015. Previous proceedings can be found by following the "Additional ITAA Proceedings" link on the left sidebar of this page.
Abstract
September 14, 2015, plus-size clothing retailer Lane Bryant launched their #PlusIsEqual social marketing campaign. Social marketing applies commercial marketing techniques to programs designed to promote the acceptability of a social idea and voluntarily change behavior (Andreasen, 2003). This research analyzed the themes prevalent in the negative comments posted to the campaign. Currently, over two-thirds of Americans are overweight or obese (Peters, 2014). Despite this majority consumer-base, plus-size models are nearly absent in high fashion magazines, and plus-size female consumers lack the same access to fashionable clothing (Peters, 2014). Additionally, obesity stigma is a pervasive and socially acceptable form of bias in North America (Puhl & Heuer, 2010). Of the 5337 tweets made in the first 30 days, 227 were negative in tone. The disapproval expressed fell into five main categories: criticism, reservation, contempt, sarcasm and externalizing. The findings highlight the presence of obesity stigma in the plus-size fashion industry.
Subject Categories
Collections