What's Your Radiographic Diagnosis?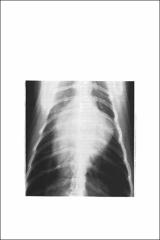 Department
Iowa State University Digital Repository
Abstract
A 12-year old female cat was presented with a history of posterior paresis of 3 days duration and an irregular heart rate. Examine the DV and lateral thoracic survey radiographs (Figures 1 and 2) and the angiocardiogram (Figure 3) and make your radiographic diagnosis.
Subject Categories
Collections