Mobile Up-Cycle Portable Research and Educational Outreach Unit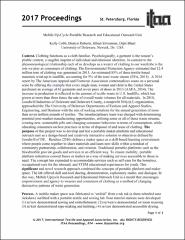 Series
International Textile and Apparel Association (ITAA) Annual Conference Proceedings
The first national meeting of textile and clothing professors took place in Madison, Wisconsin in June 1959. With a mission to advance excellence in education, scholarship and innovation, and their global applications, the International Textile and Apparel Association (ITAA) is a professional and educational association of scholars, educators, and students in the textile, apparel, and merchandising disciplines in higher education.
This site provides free, public access to the ITAA annual conference proceedings beginning in 2015. Previous proceedings can be found by following the "Additional ITAA Proceedings" link on the left sidebar of this page.
Abstract
The purpose of this project was to develop and test a portable maker-platform and educational outreach unit as a design-based and creatively interactive solution to objectives defined by Goodwill of DE. This significant and novel research approach combined the concepts of portable platform and maker space. The lab offered skill and tool sharing, demonstration, exploratory studio, and dialogue. In this way, Mobile Upcycle Research and Education Unit is a model that encourages empowerment and agency to wearers and consumers of clothing as a method of changing destructive patterns of waste generation.
Subject Categories
Collections